Chiacchiere con Macchinetta e Caffè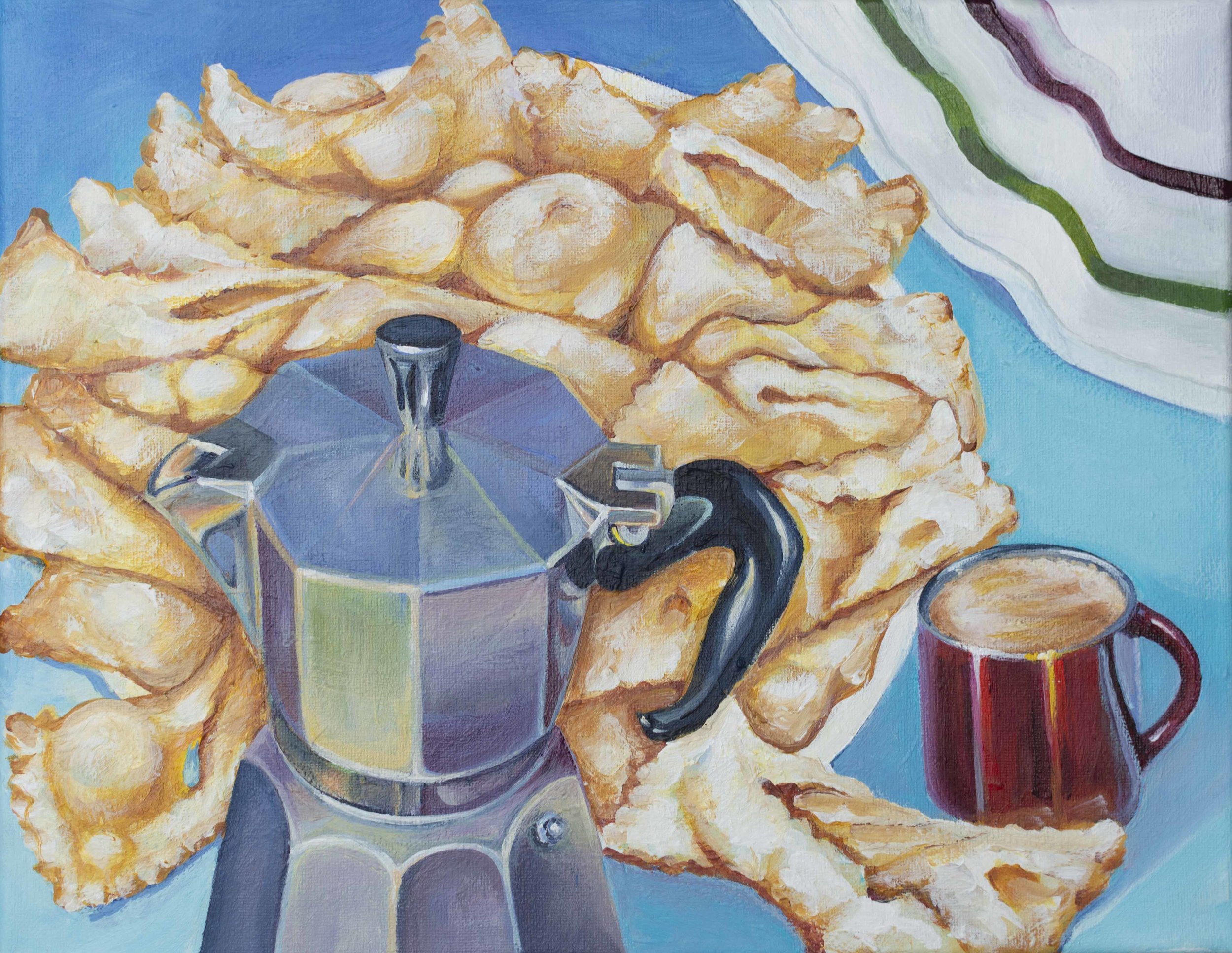 Chiacchiere con Macchinetta e Caffè
Acrylic on Canvas, 11" x 14".
"Chiacchiere" are ribbons of dough, fried until crisp and light as a feather, usually topped with powdered sugar (though i've also seen them with honey). They were among my mother's holiday specialties.
She just used to call them "ribbons", but in Italian they go by a variety of names, varying from town to town and region to region: "Chiacchiere" (from chiacchierare, literally, "to chat"); "bugie" (literally, "lies" … probably because they are irresistible, and many people eat more than they care to admit); "wande" (speculation on my part, but possibly deriving from guante, or glove); "crespelle" (not to be confused with the other fried confection called "grispelle" ); and others. In Italy they are particularly associated with Carnevale; for us, however, they were part of every family holiday and special event I can remember
The stove top espresso pot is a machinetta, familiar to every Italian American of my generation. It seems to me there was one or more of these in every relative's house I frequented as a child, often in several different sizes. There were other forms of stove top espresso pots, too, in particular the ones that got inverted once the water started to boil.
Irrespective of the pot used, the process of making the coffee in those pre-Starbucks days was a bit of a show. Especially around the holidays, when you would go to visit out would come the tray of homemade biscotti and other goodies (including the chiacchiere) and the host would ask, "Do you want black coffee, or American coffee"? The machinetta was for the "black coffee", also sometimes referred to using the French term demitasse by my parents' assimilation-conscious generation. Often in those days the "black coffee" was made with Medaglia D'Oro brand coffee … which, IMHO, still tastes great to this day!
The sound and smell of the coffee brewing, and the taste and texture of the crunchy and sweet "ribbons" melting in my mouth, are indelibly etched into my memory. They evoke warm and loving recollections of many happy times spent with loved ones.